Friday, November 07, 2003
Hollywood is Calling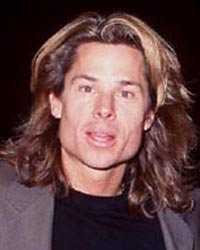 Imagine getting a call from Kato" Kaelin himself. Just to wish you happy birthday. No, it's not a recording. It's really Kato himself. And, well, yes, Kato's calling you because someone paid him to. After all, he is a celebrity. Nevertheless, it's Kato. And for the entire three minutes of the call, he's live and real and talking to, of all people, you!
Click on over to "
Hollywood is Calling
." For $19.95, you'll get a choice of "B-List" celebrities, and occasions. Each celebrity has an occasion-worthy script (birthday, Christmas, "just to say hi"), but they also improvise as needed. After all, they are still human. And they do know how to keep their end up, so to speak, in a human conversation. Or, for a mere $29.95, you can write your own script. (I'm sure the extra cost goes to pay for rehearsal time.)
I love this idea. It's so silly. And yet, it's really a wonderful gift for almost anyone you can think of. Because, in this very Hollywood-driven culture of ours (ask me who my Governor-elect is), an actual, personal, live contact, even with someone who is only somewhat famous, and is paid to talk with you, is somewhat close to a religious experience.
A couple suggestions: 1) select a star your gift-recipient will know, 2) warn her to expect the call. Tom, my son-in-law, got a call from the Incredible Hulk himself. He spent two-and-a-half of his three minutes trying to decide whether it was a joke or hang up or drool in star-struck ecstasy.
Links to this post:
link
(0) comments