Friday, January 14, 2005
An Appraisal of the Utility of a Chocolate Teapot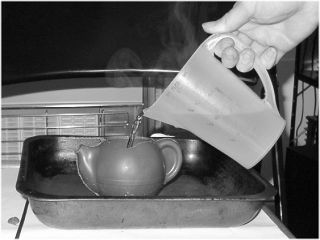 Here, at last, you will find the much sought-after
Appraisal of the Utility of a Chocolate Teapot
.
"THE CHOCOLATE teapot remains popular as a general comparative standard for the failure of an object to perform in accordance with its intended function, rivaled only by its close relative (in terms of composition, if not morphology), the chocolate fireguard. However, whilst numerous items are colloquially labeled as being ?as useful as a chocolate teapot', there does not appear to be any objective standard for the usefulness, or indeed uselessness, of a chocolate teapot itself. In the absence of any British, European or ANSI Standard, Def Stan or MIL-STD for this important but poorly-specified reference item, it was decided to conduct an independent assessment of exactly how much use one of them was. As well as filling an significant gap in the standards literature, it was felt that this study would add to the body of work published in the Annals of Improbable Research on the scientific evaluation of common metaphors (Sandford, 1995; Paskevich and Shea, 1995; Dubik and Wood, 1995; collected in Abrahams, 1998)."
Yes, it is all a bit tongue-in-cheek, dangerously approaching foot-in-mouth. But it is also a reflection of the lengths people can go to in joyous pursuit of the patently absurd - yet another source of redemption for those of us on the Playful Path.
In case you wondered, "
Plokta
is a highly dubious, 4-times Hugo-award-nominated fanzine edited by Alison Scott, Steve Davies and Dr. Plokta, aka Mike Scott. The Plokta cabal includes Steven Cain, Giulia De Cesare, Sue Mason, Marianne Cain, Jonathan Cain and George the cat"
Thanks for this absurd find go to the
Presurfer
Links to this post:
link
(0) comments