Friday, June 29, 2007
Ladder Golf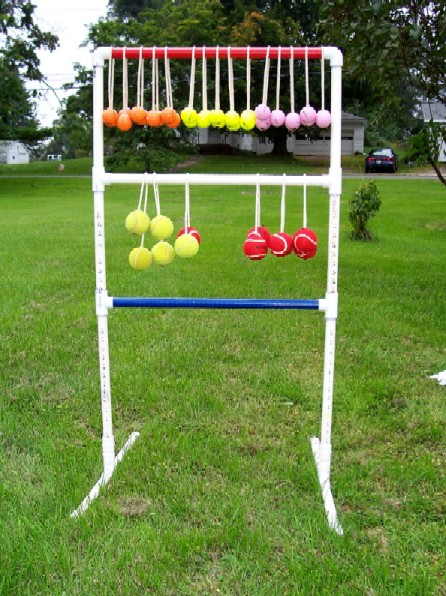 If you've already read about the game of
Washers
, and you happened to come across the story about
Laundry Balls
, you should most definitely be reading the very article you are reading now, because this is yet another throwing, backyard-type game you can make out of junk, or buy commercially, and propogate great fun.
Many are the varieties and approaches to ladder golf. You might begin reading about how you can make your own, traditional version of Ladder Golf.
Or, you might consider the immediate satisfaction gained from purchasing this ready-made version, called Top Toss, which has the added benefit of a less-than-traditional trapezoidal design for that "I really deserved that score" feeling.
Or, perhaps you might consider reading the Wikipedia article to find out all about the rules and origins and stuff.
You might even consider something like the "Spin-It " version of the game, which, as you can so clearly see from the thoughtfully attached illustration, has 4 different goals (each a different color), on a wheel-like apparatus which turns as soon as a bolo attaches itself, thus, giving rise to a different goal of a different color and scoring value, or not, depending on how many bolos therefrom append.
How potentially fun is that?

From Junkyard Sports
Labels: Family Game, games, sports
Links to this post:
link
(0) comments