Bernie DeKoven is a leading fun theorist who has shown over the course of his 45 year career how fun and playfulness can positively affect every aspect of personal and interpersonal, community and institutional health. Many of the most important trends in games today, from large scale community games to casual game apps have roots in Bernie's influential ideas. He is the author of The Well-Played Game (originally published by Doubleday in 1978 and reissued in 2013 by MIT Press) as well as Junkyard Sports, A Playful Path (over 100,000 downloads), and a CD Recess for the Soul. He continues to make his work publicly available through his seminars and websites: this one, A Playful Path, Junkyard Sports, and Major Fun.
Bernie@play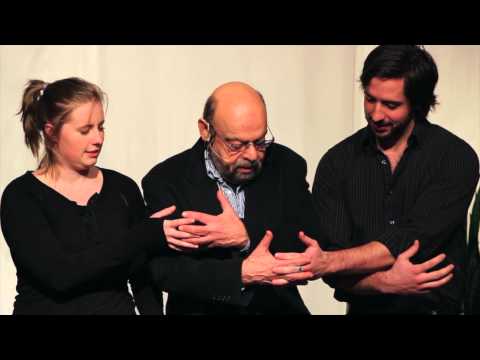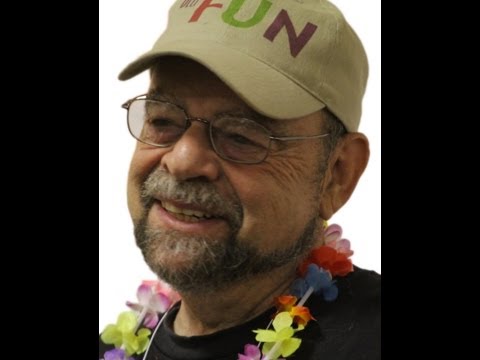 keynote presentations:
For more of this presentation, see also: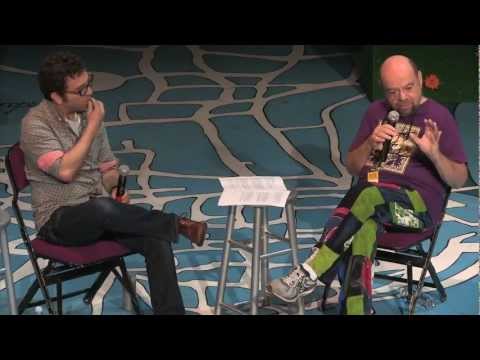 interviews and podcasts:
interviews in print:
---
Second Grade
One day, when I was in second grade, I remember thinking to myself: "this could be a lot more fun, Bernard." I mean, really. I remember thinking how even workbooks used to be more fun than having to sit here, at my desk, still, silent, with all these kids around me, listening, when we could be mucking about with some marvelously educational materials, inventing physics. And I'm pretty sure it was then that I began to devote myself to the pursuit of what I have decided to call "the Playful Path." Because the very next thing I remember was me, Bernard, joking. toying. playing, talking a lot. Even sitting in the hall, waiting to see the principal, I was always on the alert, always looking to make it fun, for me, for anyone I could get to play with.
Teaching and Playing
By the time I finally graduated college, and graduate school, I was pursuing a playful path, professionally, even though I never called it that. I taught fifth and sixth grade everything. Reading, math, science, physical education, whatever. It was me and them. So I began making games out of everything. No, I began with the fun of whatever it was that we were supposed to be doing, with the fun of it. We didn't just read, we played reading games. And we played with reading. With the sheer fun of reading, o, I don't know, braille, perhaps. Or Morse code. Or chemical symbols perhaps. And fun was had. And learning was had. And we definitely weren't had. Except for once. In one class I taught. Sixth grade. And all of a sudden I learned that the kids were going to be subjected to a test that would determine whether they would make the academic track in high school. It was what they call "the little death." No, wait. That's something else. But it did feel like something died because of that test. Like, because of that test, we had to stop working on inventing our own hieroglyphics. And suddenly the whole thing, even teaching, didn't seem like very much fun.
The Theater of Children's Games
It was 1969. We, me and my degree, found our way to an experimental, remodeled-factory, magnet elementary school called "The Intensive Learning Center," and the title of Curriculum Development Specialist, with our own parquet-floored, carpeted-risers, theater-in-the-round light and audio booth, within which to develop curriculum for the entire school district, in deed. Me, I had to do something fun. So I had these 45 minute sessions with kids from all over the 5th and 6th floor of a factory building in not-so-upscale Northeast Philadelphia. First grade kids. Fifth grade kids. The lot. And I decided that me and the kids, we'd reinvent theater right then and there. True to my understanding of the playful path, I wanted us to start from scratch, from what we know, from the collective scraps of the lives we can share with each other.
And the kids taught me their theater. And I played with them. And we called it "games."
A curriculum is what everyone else called it, fortunately. Finally, in 1971, the "Interplay Games Catalog." Five volumes. One thousand games. Coded according to an elaborate system, so that if the kids liked a particular game, the teacher could find another they'd probably like as much. And that was it. That was my theater curriculum. And they didn't fire me. In fact, they funded research. And I taught it to teachers. Games. I did these classes with teachers, and all we did was play kids games, and talk about it all, and it became, well, deep fun. Sometimes profoundly moving fun.
The Games Preserve
By then, the curriculum in my hand, we, me, my wife and kids, moved to the country and built "The Games Preserve," a retreat center for the study of play, where I, and anyone else willing to brave the rural realities of my 25 acres in Northeastern Pennsylvania, could play with an actual barn full of games - board games, table games, puzzles, flying rings, a sliding board... And there I began to learn and teach, not so much games, even though there were thousands, but what I came to call a playful path. And I had my wife and kids and 25 acres as teachers. And guinea fowl, and sometimes millions of these bugs. This is where I explored everything I could about the path I was on, this playful one. And where I discovered that I not only "channel" playfulness, but also that I knew how to teach it. It was easy. It was what I've been doing all this time. What tool could be better tuned to the experience of playfulness than games? Especially the games I liked to teach, and make up. Playful Games. This is where Dr. Brian Sutton-Smith used to bring his University of Pennsylvania classes. The Games Preserve. Where we built a peaceful, profound place for play. In the middle of the country. 90 minutes from Philadelphia. 2.5 hours from New York. Where year after year I thought about, played with, explored, studied, discussed, game after game after game. Kids' games. Family games. Games for one player. Games for the masses.
New Games
Masses. Like the approximately 250,000 people who attended the last day of the Bicentennial celebrations in Philadelphia. Like the millions of people I eventually reached after 1975, when I was invited to be co-director of the New Games Foundation, to consult on the design of the New Games Training, and help create an alternative to competitive sports that now is taught at almost every elementary school in the world.
Computer Games
And our family flourished. And it was 1981, and just when we ran out of money,
I found a job in California, as a professional game designer, for a computer games company called "Automated Simulations." This gave me the chance to try out my understanding of playfulness in a virtually virgin computer jungle. I created designs for what we wound up calling "Mind Toys." Jim Connely programmed my first game, Ricochet. It proved to be the first abstract strategy game designed specifically for the computer.  Jaron Lanier programmed my next game - Alien Garden - now known as the first "art" game for the computer: .
Coworking
From 1985 to about 1992 I began exploring the connections between games and meetings. I had discovered a computer tool called the "Outline Processor." I began using it for my own purposes, to help me design games. With the outliner, I could conduct my own brainstorming sessions, organize ideas and develop them into completed concepts. I could also easily work on several games at the same time. Essentially, it helped me keep ideas in play. I reasoned that I could do the same thing with meetings - helping business teams work together more productively. The success of this approach led to my publishing a small booklet called Power Meetings, and, four years later, Connected Executives. I started a website devoted to this process and called it Coworking. That site still exists as the Coworking Institute. Much later, the term Coworking became redefined. My associate Gerrit Visser and I were both so impressed with the similarities between my Coworking concept and their implementation of it, that we offered them the use of the domain.
While I was using the outliner and designing games, I also got to work with Children 's Television Workshop. In fact, Dave Winer, the inventor of the outline processor, and the products ThinkTank and MORE, helped me develop the prototype for a game I modeled after the children's game of Streets and Alleys. I designed it so that it could be played with one key, hoping to establish some sort of precedent for games that kids with limited mobility could play.
Junk and New Games, cont'd
The 2004 publication of my book, Junkyard Sports proved to be just the opportunity I had hoped it would be - an invitation to the sports and physical education establishments to come out and play. Based on the tradition of backyard, street, and sandlot sports, Junkyard Sports are traditional sports, reinvented. Sports redesigned, where the players make their own equipment out of whatever they can find, and adapted so they can be played wherever the players happen to be, with whomever happens to be there. In other words, sports, like new games, get played for fun, for everyone. Played playfully. And all the while I was involved in designing more games for some more companies. Did I mention Ideal Toys, Children's Computer Workshop, CBS Software, Time-Warner.and Mattel Media?
Games and Playing Well
About 30 years after the first New Games Tournament, I found myself on the adjunct faculty of the Multimedia Division of the USC School of Cinema-Television, teaching the principles of New Games, watching my students create what had to be the world's first Giant Human Card game/event.
My book, The Well-Played Game, was originally published in 1978, and republished in 2013 by MIT Press. It is now required reading amongst the computer gamerati thanks, in no small part, to excerpts published in Salen and Zimmerman's Game Design Reader.
And, following the concept of Junkyard Sports, Junkyard Games (left) is a business training game for people involved in innovation and design. I also consulted with LEGO to help them in the development of their ground-breaking LEGO Board Games. Today, through my programs and publications on this DeepFUN.com website, Majorfun.com and Junkyard Sports, I do what I can to help people from all over the world reclaim their playfulness. And, in 2014, my book A Playful Path.
---
Bernie is a lifetime member of The Association for the Study of Play and the 2006 winner of the Ifill-Raynolds award from the North American Simulation and Gaming Society.
I think you are one of the most important figures in the history of game design. Your work has been an inspiration to me personally in my attempt to bring back the physical and social dimensions to contemporary games, and in recent years your approach has become extremely relevant yet again due to the groundswell of interest in the ethical aspects of games and the power of play and players as opposed to games as fixed artifacts. - Frank Lantz

Bernie probably knows more of a practical nature about how to use games in a healthy way with children, adolescents or adults than anyone I know. -Brian Sutton-Smith

Bernie is one of the most inspiring and ingenious teachers I know. He is also a master of his subject -- learning through play. -Herb Kohl

Life without fun is not worth much -- as many people who have achieved success and wealth at the expense of stress and depression realize. It should be easy to have fun -- yet most of us have forgotten how to play, how to invest life with enjoyment. Bernie is the only person I know who not only knows about play, but knows how to teach it. May his efforts prosper, for they help us all. -Mihaly Csikszentmihaly
I was just taking some little bits and pieces of papers out of my journal and I found the following hard-copy of something your brother-in-law wrote to you: "I find many if not most people today are not in a particularly "fun-seeking" mood. They are preoccupied with finances, war, the economy and personal problems. Fun, however, is a vital therapy no matter the circumstances. The release of life's anxieties cannot have too many channels, in my view. I....have a need to communicate via Fun to people. I may not want to enter that Fun because I cannot overcome the 'troubles of the day' without major incentives to do so. Fun may be good for me but I can't seem to allow myself to enter in anyway. Perhaps I don't see fun as the solution but rather as an escape from solving the problem(s). Funny, when people most need the releases, they are less apt to seek them." I am touched again by his honesty and his insight. I too feel unable to enter into Fun when so much feels wrong and sad and overwhelming in the world today, everyday. I forget your teaching, so to speak, that Fun IS part of the solution and not just a form of denial, an escape, a narcissistic indulgence at the expense of others who are not as fortunate as I am. Just thoughts, which bring me back to the mindfulness practice that DeepFun is for me. It is the practice of Little Fun all the time, despite the trying external circumstances on this beautiful and fragile earth I love and despite the woe I see. And as I practice this path, I want to change my paradigm and begin to really believe that having fun, living fun, teaching fun, being fun, can transform this world, that it is part of the solution to the distress. IF not the world at large, it may have the power to transform MY little world, my circle of influence, I hope. And that is a step in the right direction. Magdalena Cabrera

Tonight I was at a facilitators' network meeting when I was asked to think of someone who had really made a difference to my life as a facilitator. And you were my inspiration. You have made such an impact on my thinking. I share your Me/We with lots of new facilitators. Your blog makes me smile every day. Your joy of and in life gives me a model and a goal for maintaining my positivity and energy. I feel so blessed that I not only found you during my Ph.D., but had the privilege of sharing time with you and Rocky and family. So this is a thank you - for your wisdom, your passion, and your love. Marie Martin

The class I took with you at Esalen got me started back on a more playful and joyful life pathway. I enjoy your newsletters and I've started playing games with people who are taking life way too serious - exoffenders and colleagues. I'm gaining a deeper understanding of happiness and have added play to some of the volunteer work I'm doing to teach others about joy. I am amazed at the huge number of adults who are underplayed! Some didn't grow up playing and haven't found the joy in play, others seem to think work is far more important than play. I've played with people who don't seem to have fun and now that I've begun to understand happiness, I'm playing with people who play and have fun! Corinne Lambert

The pace was gentle and easy. I usually go to workshops where the work is hard and deep and it is all about learning through pain, so often. IT was lovely, really just what I was hoping for, to remember and experience learning that happens in a loving and laughing way. Magdalena Cabrera

Fun has definitely been restored! It has been a little over a week since I have returned from Bernie's seminar and I have found that fun, just as we suspected in class, is contagious, infectious and unlike a virus a spontaneous utterance of the joyful heart. When I finally returned to work last Tues, my boss said that I looked radiant, like a school girl were his words. On Wed he said that it was good to have me back, where upon I assured him that even though I would be showing up to work on time and doing my job, my head and my heart were still at Esalen, with Bernie and our amazingly playful group. On Thursday he said that my laughter and fun were infectious and that everyone around me was happy. On Friday when I left work he said whatever Esalen was, I could have time off to go there as often as I wanted, because he was so happy to have the old Janet with her smiles and laughter back. (In all honesty my life for the last year had been very tough and I cried more than I laughed.) I assured him that my Esalen experience with Bernie was here pointing to my heart, but that I would take him up on the offer and assured him that the Janet he remembered was back to stay.  Janet Monolias

The biggest thing for me and that I still keep remembering is the people are more important ( the Play Community) than the game....That as you know is lost in our society and that is the unique gift I felt you gave the group and can give the world!! SO let people know that this really is BEYOND games, it is about life!! It is about how to bring more happiness into daily life. Elizabeth Doenges

One of the greatest take away's for me was totally personal but touching and that was connecting with a group of likeminded people who really supported each other and you created the atmosphere of safety for each one to come out and be played with. I cried as I drove away. Lynne Law

I've been trying to put my / our experience into some sort of description since we returned. I get as far as a trusting, safe, non competitive, loving atmosphere in which we do silly and very profound things. Which require all of the above to succeed. (except of course for Estray Bonjour) .What stays with me is the feeling of family, warmth, and as I said the day we parted "a whole new group of friends" built out of the above and your guidance...the experience is the warmth and caring that developed amongst us. When I've found myself getting uptight and too serious about things I've reminded myself that it doesn't have to be that way. Actually the words "Estray Bonjour" could be printed onto a card and flashed before me several times a day to prevent anything to serious or bleak from lodging in my mind. The other side of the card could have a photo of your smiling, adorable face. You have created something wonderful that should be shared and spread. It's so hard to explain or define what actually took place .I love you for it .Gwen Mahoney

Lovely and affirming quotes, aren't they? What did you expect, dearie??? Certainly no smidge of venom after our hilarity and connection at Esalen.I too had a great time. Being one who already has oodles of fun in my daily life, I sometimes feel a bit apart from the rest of humanity. Our experience together with you encouraged me in the conviction that even those of us who have horrendous events in our pasts and even not-so-lighthearted temperaments to begin with can make a Play Community come alive. Thank you, Bernie! Cody Kirkham

We speak often and lovingly about you and the group. We gained much more than just fun and games. It would be nice some day to sit and philosophize with you. Feels like we have known you a long time. Lee appreciates your kindness and all the space you gave her. It will help her do the same for others. Lessons come in odd ways. Lee and Marvin Silverstein

Great! Such fun! An exquisite blend of joy, celebration, looniness, community, etc. Delicious and soul opening. Al McLeod

It was outstanding in every way - the teacher, the group, and Esalen. Bernie took us on a Shamanic journey into the world of fun .Bob Doenges

Thanks Bernie! I think the whole RLF group enjoyed and learned from your presentation... We are all so busy these days that it is a luxury to step back and learn how to incorporate fun back into our work environment and get into the "FLOW". We now have point in time we can all relate back to on how "Jack, Bernie or other RLF members" called the meeting! Thanks again for a great presentation and a few moments of laughter. Life is so short we need to take a moment to enjoy each other as people, too! - Edmund Gee, Deputy Forest Supervisor, Lake Tahoe Basin Management Unit Office

Bernie's work is subtle, gentle and effective. He made me feel special and included me from the first night. I will recommend him and his work to others. I am glad I took his workshop.

Bernie has a deep and important message - the power of fun. He is a creative and wise leader and this is a workshop that should be repeated time and again. Not only is is a fun week, it is also deeply enriching.

Bernie helped us form a play / Play Community within the group. His passion, dedication and knowledge of fun and community-building, as well as his acceptance of all made these five days outstanding for me.

The class was well-presented, educational, fun and funny. A forum that felt safe as well as gave permission to step out of certain activities. I had more fun than I have had in years - as well as created a space that was very loving. I learned to take away activities I can share with others.

Fantastic! Bernie is a loving, warm (and very funny)man who not only taught us multiple fun games so that we had a ball, but to grow close to each other and learn how to go back home and create new communities of fun.

Excellent! I have never laughed so much and had as much fun. Absolutely an incredible workshop. Bernie was a very good leader!! We had such a wonderful community of fun and learned at least 40-50 silly games.

I found the workshop light and it was all right. I would do it again and again and again....

Fabulous! I was able to open my life and enjoy my playfulness, spontaneity, innocence of childhood. And, at the same time, we were able to relate it to how these qualities can be used to restore fun in daily life.

Wonderful! Very supportive atmosphere. A safe space to explore fun and flow.

Great! Inspiring! !informative! Well led!

Bernie is a great teacher. I had a lot of fun and laughter. It also helped me to understand why I've never liked games - as an adult - and what I can do to make playing enjoyable and safe for me.

Wonderful! I wish I had taken this before now. Highly recommended class, especially for business people. Well led. Inspiring.

I wanted to tell you that I sent your note about safe play to many of my friends. We all needed to believe that the world is still a place were we can play. Even if we have to just pretend. I also wanted to thank you for the wonderful weekend. I continue to work through many of the ideas that you introduced and reintroduced to me. I came home so relaxed that it took me days to get back to my desk. Even now I continue to be able to reenter that peaceful state. Thank you. Jay Beckwith (see Jay's article on "Complexification")

This weekend's laughter, learnings about flow, fun, alone & together, & growing sense of community will reverberate in my life for a long time. Bernie is a master at silliness as a path to Oneness.Nancy Young

DeepFUN takes me to a place where I can describe myself as 'plays well with others.' Nan Fox

Just a reminder about how much I love what you are doing. Probably the most profound for me is your unequivocal shaping of the positive side. For years I have been telling friends that I am looking for the guru who sees me as whole and helps me extend my joy, beauty and "fun" instead of the other way around. So guess you could say I've found my guru, though you need not take it to heart because I actually don't believe in gurus.- Marah

An uplifting, joyful experience. We learned how to better our lives through enhanced 'fun.' Bernie gave us a set of tools to make our lives more enjoyable and how to bring this gift to others. This program is a 'must' as a mainstay at Esalen. - Cal Todd

I found the games so much fun. Bernie...was so caring and sensitive to the group. I had an outstanding experience.- Marilyn Todd

Surprising, bouncing, laughing, listening, discovery, learning, connection, play, freedom, balance, peace & new friends.- Ariel Green

A time for silly, giddy giggles in a safe, supportive cocoon. It was an incredibly joyous, connecting experience with a group of open and warm friends. Bernie made me laugh and let go of inhibitions and play with such fun - he's a special person who promotes safety and fun.- Bettina Gantsweg

You need to know about the flow. Bernie shows you where to go.- Michael Bell

Bernie , yes it was fun! Can't tell you how great it was to get out of our "heady" routines. Its amazing how we lose the ability to play. Your workshop gave us that moment in time to capture that feeling of joy. We have missed it since we returned to Texas and our new home (jobs -work) and volunteer commitments. But those moments of frolicking on the floor are alive in our memories and we both want to encourage it in our family and friends gatherings. We loved not using any equipment that weekend. Just want you to know we were frayed and fragmented when we came to your workshop but when we left, we had feelings of joy which we hopefully can keep sharing with others. Thanks for the memories. -Lynne and Mark

Bernie's level of teaching, attention to individual needs and efficient planning of classes were astounding.

I thoroughly enjoyed every aspect of this workshop. This was truly deep fun.

The synergy of the group was incredible, the exercises/games really made that so.

Bernie is very humorous and approachable. It was nice to have some theory mixed in too.

Enjoyed it immensely. Bernie allowed/showed us how to gain enjoyment from virtually everything we do, while still maintaining our responsibilities.
Finding Fun - further, deeper, more detailed reflections from fellow fun-seekers
.
Leave a Comment
This site uses inline comments. To the right of each paragraph, a comment bubble with a + sign appears when you click inside the paragraph. Click the bubble to load the comment form.